Organ Donation first touched my life in 2007 when my husband ,Julian was diagnosed with Liver failure .
Julian was unable to work due to his fluid buildup and was told a couple of times, he would not make it with out a liver transplant, an he was near death a couple of times so he evaluated and put on the "waiting list" in 2005, and about sixteen months later, He received the call to receive his Liver transplant, the transplant went great, and he was able to resume his normal life of working full time.
In 2009 after his checkup with his nephrologist, he was told the rejection medicine had affected his kidney and was told he should start dialysis and be evaluated for a kidney transplant.
On his second visit to the nephrologist, which was when the dialysis was being scheduled, I told the Dr. " I AM GOING TO DONATE A KIDNEY TO MY HUSBAND"..
I can remember the look on the Doctors face, he was quiet for a few minutes and I said what do I have to do to see if I can donate, he gave me orders for a evaluation and told me while I was being tested Julian would start dialysis so I scheduled a appointment the next week , which included a very extensive three day evaluation and as I patiently awaited the news to see is I was able to donate, which seemed like took forever , but was really about a month and as I prayed for God to allow me to donate, I also prayed that I would accept if I couldn't and move forward by his side alone our journey,.
I say "Our Journey " as we were in this together, no matter what we were going through.
In May 2010, I got the awesome news that I was a 5 out of 6 antigen match to my husband and every one was surprised at such a close match between a husband and wife.
In the next few months, the Doctor and nurses prepared for Our Transplant and on July 25. 2010, we both went in to surgery with family by our side and I donated a kidney to my husband.
I am so grateful that I was able to give Julian, the "Gift Of LIfe" and I would do it all over again, It was great experience and every since then I have become a advocate for Organ Donation, and I volunteer at the same hospital I donated at and I go to patients and tell them my story and how organ donation has touched my life and I also make blankets and pass them out to transplant patients and family members who await on their loved ones to come out of surgery and tell then them how important it is to be an Organ Donor.
I am a member of Team Texas since 2012 and I have attended and participated in The Transplant Games in 2012 in Grand Rapids, Mi and also in 2014 in Houston , Texas and I am looking forward to the 2016 Games in Cleveland, Ohio as a Living Donor to show my support for all those who have been given the "gift of life" but also for all of those who are awaiting on a life saving transplant.
Sara Guzman, Living Donor 2010
Team Texas
Pasadena, Texas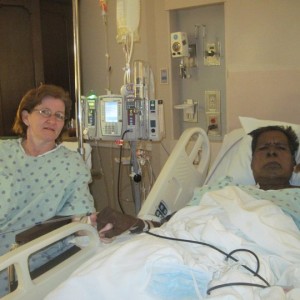 Comparta la historia