It all started in the back of the ambulance. Shortness of breath, swollen legs and weakness. Only this time, the patient on the stretcher was me! For 13 years, I had been an EMT in charge of others with medical emergencies. Though I recognized the symptoms, I had no idea where this would lead.
I was diagnosed with Congestive Heart Failure (CHF) which is surprising for someone my age. But, hearing for the first time that I needed a heart transplant was shocking to me. My cardiology group reassured me this was the correct avenue to proceed and I was added to the Transplant Waiting List.
On June 23, 2012, I got my new heart. All I know about my donor is that he was in his late 20's when he passed away and his family made the choice to donate. Since then, I have written to them to thank them for the life-changing gift they gave me. And really, that's what being a donor is all about. Changing someone's life.
Because my donor family made that choice to donate, I'm grateful for the opportunity to educate others about organ donation. Registering the decision to be an organ donor is easy nowadays – it takes only a minute or two to sign up online at Donate Life Texas or to say yes to donation when getting your driver's license. Every donor can help so many people, all of whom are on the list waiting for that second chance.
This year, I am excited to compete in the Transplant Olympics in Cleveland. Just getting to see and be with fellow recipients and donors is something that creates a special bond that binds us. The Games also helps raise nationwide awareness for people who are not yet registered to sign up. And, maybe, I'll get a chance to win a gold medal, too. Wouldn't that be a great way to honor my donor and his family for their precious gift?
Arthur Rhea – Heart Transplant Recipient, 2012
Team Texas, Transplant Games Participant 2016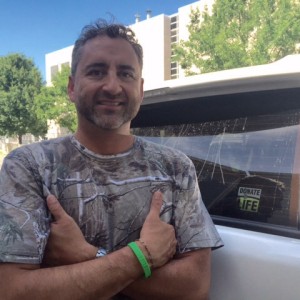 Share the story