Mandy had no inkling of any heart problem until she was 21 and was told during a routine doctor visit that she had supra-ventricular tachycardia. That in itself was innocuous, but over the next thirty years she developed atrial fibrillation that sent blood clots to her brain and caused four transient ischemic attacks (mini-strokes); heart failure that left her exhausted and short of breath; and ventricular tachycardia from which her life was saved several times only by shocks from her implantable cardioverter-defibrillator (ICD).
By the time of the tachycardia, at age 51 in early 2019, she had been diagnosed with a rare genetic heart defect, from which no one on either side of her family had ever shown symptoms. A formerly active wife, mother of two, attorney and active community volunteer, she had stopped going to work, bowed out of all of her volunteer activities, was unable to drive or even go for a walk by herself, had greatly reduced her social life, and was depressed and felt like she was just waiting for a full-blown stroke or a tachycardia from which her ICD could not save her.
She was placed on the national heart transplant list in May 2019 with a high priority number. Unfortunately, her blood work showed she had extraordinarily high antibody numbers that prevented her from accepting hearts that were offered to her. She spent six months in the hospital undergoing a series of protocols aimed at reducing her antibodies, doing seemingly endless plasmapheresis treatments, intravenous immunoglobulin therapies, and rounds of various chemotherapy drugs, all while contending with an implanted intra-aortic balloon bump as well as liver and kidney scares.
Ultimately, these treatments were largely unsuccessful, and she began to give up hope. She had difficult conversations with her husband, sons and other close family members and friends; wrote her celebration of life service and made arrangements with her minister; and wrote letters to her family to be opened upon her death.
Then, after 183 days in the hospital, a miracle heart from a generous donor in another state was offered to her. A heart she was subsequently told was so perfect for her and her complicated antibodies that it was a 1 in 5.7 million match. Her transplant was successful and although she is currently largely homebound due to the coronavirus and the recency of her transplant, she is back to enjoying walking, being involved with her volunteer groups again via zoom, and considering going back to work.
Mandy hopes that if you are considering being a donor, you will take this away from her story: If the ONE DONOR who so generously donated her heart to Mandy had not done so, Mandy very well may have not received a heart at all. Her doctors had no more "quivers in their bow" in terms of new protocols to try, and the chances of another perfect heart coming along before her heart, liver, kidneys or other organs began to fail were obviously very slim. She believes her donor was her only chance at life and she hopes that you will consider that you too, maybe someone's only chance at life.
Photo Note: The picture was taken by Mandy's father, Michael. Taken the first time she was able to go outside after her transplant, after being in the hospital and not being in the sun or breathing fresh air for 6.5 months.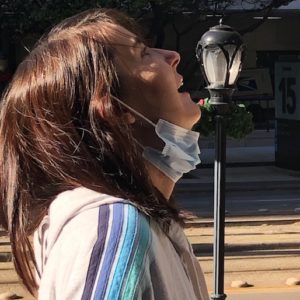 Share the story