My story begins around 1975. My aunt Tootie lived in Gretna, Louisiana. After having a baby, she became very ill and was diagnosed with degenerative cardiomyopathy. This is a condition which weakens the heart muscle and causes irregular heartbeats. It would eventually take her life. In 1989, my brother, David, was diagnosed with the condition and ultimately, my sister and I would both be diagnosed with it as well.
When my brother's health plummeted in 1989, he was placed on the heart transplant list and the following year, he received his greatest gift – a heart transplant. Sadly, he was not the example on how to live with a transplant and passed away in 2000. Watching his struggles, I always said I wouldn't go through that.
In 2003, I moved from the Houston area, serving as Chief of Police in several towns near Lubbock, eventually settling Mathis, Texas in 2010. In a short time, I was also working as City Manager in Mathis. My job was very challenging and I thrived until 2012, when I started noticing shortness of breath and weakness. Over time, these symptoms got progressively worse.
Finally in the fall of 2012, I went to the emergency room and then to St. Luke's Hospital in Houston where I was fitted with an LVAD. This allowed me to return home and to work for several months. I had just begun considering applying for a new position in Galveston County when things took a turn – I had been placed on the transplant waiting list. I moved into my mother-in-law's house to be closer to the hospital in Houston. Six days later, I received my gift on August 2, 2013.
While still in the ICU recovering, my father helped me to complete my resume for that position in Galveston County and we mailed it from St. Luke's Hospital. I was released from the hospital on August 19, interviewed on September 14, and returned to work on September 30, 2013 to my new job as Chief of Police in Bayou Vista, Texas. Seven months after my transplant my wife and I rode in the MS150 telling everyone about my transplant and promoting organ donation. I also participated in the 2014 Transplant Games in Houston. My wife and are still promoting donation and I will be not only a participant in the Transplant Games, but a competitor.
Larry Whittington – Heart Transplant Recipient, 2013
Bayou Vista, Texas
Team Texas, Transplant Games Participant 2016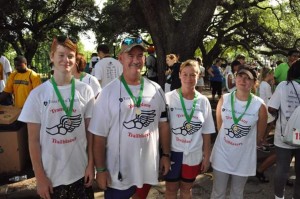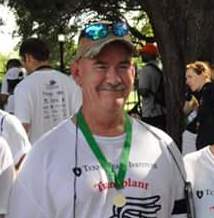 Share the story