Before I tell my story, I would first like to say how grateful I am that my donor and his family gave me a second chance in life. Without my donor and his family, I do not think I would have lived another day. My donor gave the organ, but it was his family who made the choice to donate since he wasn't registered when a stroke took his life. I thank them both for this incredible gift!
After my transplant, I had a tattoo put on my left forearm with angel wings a cross and a green ribbon in the middle in memory of my donor. I also wrote to my donor's family. A year and 3 months after his donation saved my life, I got a letter back from my donor's sister who made the call for him to be a donor. We have spoken on the phone, but I have not yet gotten to meet the family. When I found out my donor's name, I finished his tattoo by adding his full name and dates. So now when people ask about my donor, I show them his tattoo and say "This man here saved my life!" I am proud to show this tattoo to people to show my respect and show how grateful I am that James gave me a second chance in life.
My story starts on May 21, 2013 when I became very sick in the middle of the night. I was admitted to the hospital and by 4:00 the following day, I was having liver, lung and kidney failure and was bleeding out my esophagus. They told my wife I would not live through the night though I managed to walked out the hospital 12 days later. I got worse over the next months until a liver specialist diagnosed me with a rare disease called Alpha 1 Antitrypsin Deficiency a genetic disorder that attacked my lungs an liver, leaving me with full blown emphysema and liver failure. Though they could treat my lungs, the only hope for my liver was a transplant. The doctor didn't expect that I would live long enough to complete the testing to be put on the transplant list. But, I fought hard and was in and out of Baylor Hospital Fort Worth more than 20 times over the months to come.
I finally got on transplant list and went straight to # 1 in my category. A few days later on April 1, I got The Call for a liver in Baylor Dallas. This is where my story really takes a crazy turn – problems with my health insurance caused the liver to go to someone else, even though I was a match. The company refused to take our calls or explain why, but the result was that I missed getting a transplant by about 8 hours. I guess this really broke my spirits and my health took a dive. My MELD score went from 28 to a 38 over the next four weeks. (A MELD score is calculated to show the severity of liver disease in a patient. 5 is sick, but 40 is almost dead.) I was so sick, the doctors feared I might not survive the surgery to get a transplant.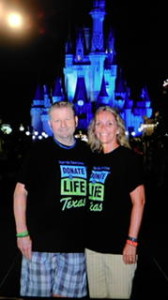 By mid-April, I was barely well enough to be on the transplant list. Because of the liver failure, I was always cold, but the night of April 17, I was sweating and so exhausted, I told my wife I couldn't fight any more. Being the wonderful wife I have, she wasn't about to let me give up and kept encouraging me to stay tough. Someone upstairs was looking down on me that night. About 30 minutes after telling my wife it would be my last night alive, The Call came through from Baylor Fort Worth that they had a liver for me.
So, on April 18, 2014 my life was saved by James C. Essary, my angel who is now looking down on me. My surgery was a huge success and I am doing great now. I now volunteer for LifeGift and Southwest Transplant Alliance to give back to a cause that saved my life. Recently, I received the Newman Award for all my volunteering in the Dallas/ Fort Worth area. I speak to interns and hospital staff about the lifesaving importance of organ donation and have attended Donate Life Flag Raisings at Baylor hospitals in the area.
I am a blessed and lucky man to have my life saved by James and his family. I hope to have the honor to one day meet them in person because, in my eyes, they are a part of my family now. #DONATE LIFE SAVED MINE!!! Thank you for reading my story.
Donnie Speers – Liver Transplant Recipient, 2014
Fort Worth, Texas
Team Texas, Transplant Games Participant 2016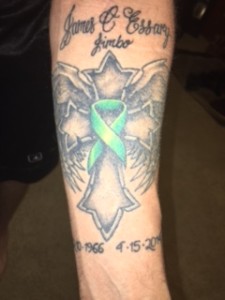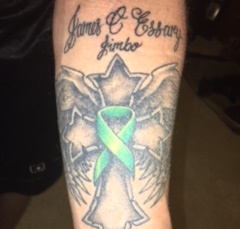 Share the story