The story of my son, Jay, has taught me that organ donation not only allows a recipient the chance at a long life, but it also allows the Hero Donor to "live on" through each life touched.
The absolute worse news a parent can get is that your only son, who is only 29 years old, who was healthy, fit and strong, is now brain dead. But, that was the news I received just over a year ago on Nov. 21, 2015 at 2:00 pm.
The night before I heard those words, I laid my head on my son's chest and just listened to his heartbeat. I put his arm around my neck, talked to him and read from the bible. The very last words I said to my son was something we ended every call, text & letter with – "We're all we've got. If you are ready to go home, get your wings and soar, then you go home to the loving arms of the Lord." I told him that I love him more than all the stars in the sky. And, I know he heard me.
All his life, Jay had a tender heart and an old soul, always looking for the good in people. He loved to laugh and play pranks but was also very intelligent and an avid reader. Skeet shooting was our family pastime we all loved together.
Some might say he was a Momma's boy, but that didn't matter to him, because he knew I was his #1 Fan. He was always willing to help others. When he was 10, we were on our way for a pizza lunch when he saw a homeless man holding a sign that read, "Hungry & will work for food." He told me he wanted to help, so we ordered an extra pizza for the man. When Jay gave it to him, the man said "You are an angel sent straight from Heaven."
It was at that very moment that I recognized for the first time how truly tender-hearted and compassionate my child was. But, it wouldn't be the last time. We spoke once about what he wanted if he passed away before me – #1 was to get out of Texas and #2 was to donate his organs.
How could I have known then how important that conversation would be. That one day it would be up to me to make sure that his wish to be an organ donor was carried out.
Jay gave the ultimate gift to five people he would never meet, giving each of them a second chance at life. On that cold November day, Jay's kidneys were transplanted into a man in his forties and to a teenager both who were suffering from end-stage kidney disease. His liver went to a woman in her sixties and his lungs are helping a 62 year-old to breathe easier.
I can only imagine the other phone call made that day to a man who had been waiting for the better part of a year telling him that, at last, we have a match for your heart. That our son's sweet and tender heart would be the one to give him more time with his family.
As of May 11, 2016 I have received word that all the recipients of Jay's donations were recovering and doing well. This news makes my heart smile because I know that my precious son Jay lives on in each and every one of these recipients because of a genuine desire to make a difference in someone else's life.
Jay made a choice, and in doing so, he gave the greatest gift of all, a second chance at life. There is no closure for me because his life ended too soon, but knowing he helped others brings me some peace. I love and miss my son and not a day goes by that I don't think about him and wonder what if things had been different.
Jay, I love you more than life itself and would have gladly changed places with you. There is a void in my heart, but in time it will heal. What I wish for you now is to rest in peace, my sweet, precious child, you have wings now. Fly BECAUSE YOU'RE FREE!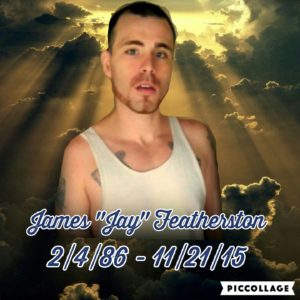 Share the story