Out of 6 kids, I am the shortest. When we line up, I am the dip in the middle, at 5'1″ while the rest are 5'6″ to 6'3″. I never could understand why I was so unique. Not only am I vertically challenged, I am also the only one in our immediate family with the genetic disease Polycystic Kidney Disease (PKD). PKD affects 13 million people worldwide with the vast majority having inherited it, but not me.
My disease didn't slow me down until my early 40's, but at 45, I had been added to the transplant waiting list and was getting ready for dialysis. In 1998, all 6 of my siblings offered to be tested to be donors and two were found to have compatible blood types, a requirement at that time. My sister Gina was to become my donor.
Though Gina and I share only one out of six antigens, I have never had an episode of rejection, I take very little anti rejection medication and no steroids. I honor Gina's gift every day by eating right and not partaking in alcohol or smoking. I feel this chosen lifestyle has afforded me all these "extra" beautiful years of life.
Gina's generous gift has allowed me to travel, see my kids graduate from college and one of my children get married. Hopefully, I will witness the other marry and one day I might have grandbabies to love! I live with my fur babies – 2 dogs and 2 cats – who keep me secure and happy. I am retired now and enjoy gardening (with gloves and a mask), walking my puppies, volunteering and doing art projects in my spare time. It is my passion to share my happy story as often as possible through FaceBook, events and casual conversation with anybody!
I feel it's important to educate people about living donation and the life it makes possible. It's been 18 years since my transplant, I'm 62 years old and I am thriving, thanks to my sister and donor, Gina.
Teresa Ann Sturrock – Living Donor Kidney Transplant Recipient
Team Texas, Transplant Games of America Participant 2016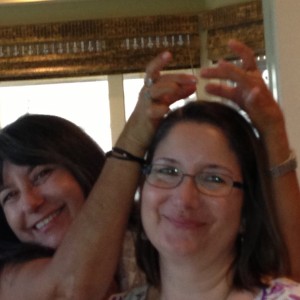 Share the story