April 21, 2019, we found out that I had cirrhosis of the liver. It was Easter Sunday.
We were having our families Easter celebration the day before and I just wasn't feeling right. I felt bloated in my belly and my legs were swollen. I stayed home for most of the celebration but my wife did end up bringing me up there to eat lunch. I didn't eat much so I knew I really wasn't feeling that great. My wife ended up taking me back to my mother in laws and I said after our Easter celebration was over and I took the girls home, I wanted to go to the ER.
When I ask to go to the ER, you know something is not right.
We went to Baylor in Sunnyvale, TX around 10:30 pm that night. I initially told the doctors that I thought that I might have strep because my throat was sore and I was having a hard time breathing. Boy was I in for a surprise!! They took a lot of blood and I ended up going down for a sonogram. At about 5:30 am, Easter morning, the doctor came in and said that I had cirrhosis of the liver.
What? But I don't drink. I mean I have like 3 – 4 drinks a YEAR but that shouldn't cause this. That can't be right. This can't be happening. They told us that I would have to be admitted because I had a lot of fluid buildup in my abdomen and that is what was causing the swelling and the breathing difficulties. Everything went from slow as molasses to lighting speed (at least in my mind). Is there a cure? What needs to be done to correct this? What could have caused this?
They admitted me and I had 8 liters of fluid taken off of my abdomen. I had more but they didn't want to take it all because it could be bad and cause issues. I was in the hospital till Wednesday and then I got to come home. And from there my liver journey truly started.
I found out so much over the last year. And to be honest the journey went in a direction that I eventually thought that it would go in, but I thought that it would be years away instead of 8 months. My doctor's suggested that I go in for the TIPS procedure. This was to help with my fluid buildup. It was scheduled for November 20th. After the procedure things went wrong fast. I was part of the 1% that TIPS does not work for and it caused my liver to go into failure. Two days later, I had a bad episode of HE (Hepatic Encephalopathy), and was put on the transplant list on December 1st. On Thursday, December 5th, they came into my room and told me they may have a liver, but it was considered high risk. My wife asked what that meant, and the Dr told her they it had been exposed to Hep B but it didn't have it. Around noon, they came back in and said that it was a viable liver and started to prep me for surgery. At 5pm, that evening, they started the transplant surgery, it lasted til 1am the next morning. I stayed out of it until around December 20th when I started to become lucid and remember things. That Christmas, I spent in the hospital, but was lucky to spend it with my son, three daughters and my wife. My wife never left my side during my entire stay in the hospital. I can't tell you the gratitude I want to give to the donor family. If it wasn't for my liver donor, I wouldn't be able to be here today, so we are trying to not take anything for granted, also I get to spend more time with my son, who we had just adopted last October.
I am thankful that so far everything is going good but we know that it can change in a heartbeat, November 20th proved that to us. Thank you all for your continued prayers and support for me. I just wanted to let you all know how this started. I didn't tell a lot of people about it but it's time to share because maybe something that you read will prompt you to go and get yourself checked out. I had been told over the last several years that I had a fatty liver but it was always followed with "but just watch your diet and you will be ok" and you see where I ended up. Take care of yourselves.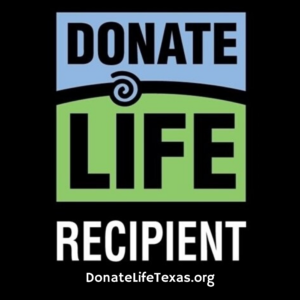 Comparta la historia