Having been healthy all of my life, I was surprised to find myself in the ER at 29 years old and 3 1/2 months pregnant having suffered what appeared to be a heart attack. Tests revealed I was in congestive heart failure (CHF). My family and I weren't sure whether I or my baby would make it out of the hospital alive.
Thankfully, after 3 weeks in the hospital, my baby girl and I were stable enough to go home for the remainder of my pregnancy. On July 2, 2003, I delivered a tiny, but healthy baby girl and hoped that my problems with CHF were over. But, unfortunately, they had only just begun.
My husband and I had hoped for more children but those dreams were dashed only a year later when I went into heart failure again and again found myself fighting for my life in the hospital. This time my doctors determined that it would take stronger drugs to keep my heart failure at bay. My CHF was managed with medications, diet and treatments for 7 years until I caught a common cold that my body just couldn't fight on its own.
In February of 2011 I found myself once again in the hospital fighting to live. This time I wouldn't go home with my heart. In April, I was placed on the transplant list. By July, I was too sick to wait any longer. I was implanted with the SynCardia Total Temporary Artificial Heart, the first person at St Luke's Episcopal Hospital to receive the artificial heart and the first in Texas to go home with the device. I was heartless…literally!!!
I was so excited to go home to be with my 8 year old (though scary with the artificial heart). I got to see her off to her first day of 2nd grade and begin to resume a semi-normal life at home for the first time in 8 months.
I got The Call on September 20, 2011. They had a possible match and I needed to report to the hospital. This was one of the most exciting, yet scary days of my entire life! I was told that my donor was a woman just 3 years younger than me. I'm so thankful for this woman and her and her family's decision to choose life in the midst of such a difficult time!
Since my lifesaving transplant I've been able to watch my daughter grow and learn so much. She is becoming a beautiful young lady. My husband and I have also adopted another beautiful baby girl. We were able to be in the delivery room when she was born! She is now 3 years old and brings so much to our family!
I am also able to volunteer at the hospital where I received my transplant to encourage those who are waiting for a new heart and those who have just received a new heart. The group with which I volunteer also puts on organ donor awareness events and encourages people to join the donor registry.
I can't say thank you enough to those who are organ donors, both living and those who have passed. You are heroes! God bless you and your families!
Shawn Galloway – Heart Transplant Recipient, 2011
Houston, Texas
Team Texas, Transplant Games Participant 2016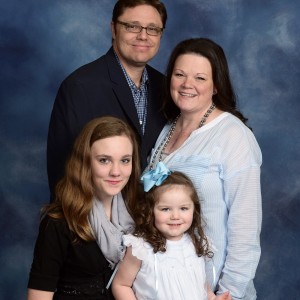 Share the story