Six years after marrying my lovely wife, Karen, I was diagnosed with a rare form of cancer. It was so advanced when it was found there were more than 100 tumors in my liver alone. For the next five years, Karen helped me endure surgery and radiation treatments, but nothing seemed to help. Together, we held tight to our faith and found comfort in some of our favorite passages from Isaiah 41:10 and 43:2-3 that the Lord will not leave those with faith, even in times of trial.
Out of options, I was referred to a doctor in Florida who specialized in multi-organ transplants. Karen and I relocated to Miami after working together for more than a year so I could get healthy and strong enough to put on the transplant waiting list.
Meanwhile, an army of faithful friends – and even some strangers – prayed and offered practical assistance along the way. One day, Karen walked into a business meeting and a person she'd never met said they had been praying for us. It was a precious reminder that God is in control of every aspect of our lives, we should not give way to fear but go where He leads us.
In July of 2013, I received the life-changing call. I would soon undergo a 5-organ transplant of a pancreas, stomach, small and large intestines, and liver. The call came just in time, as it turned out. I was almost in total organ failure.
I went into the transplant surgery without fear even though only 15 other people with my condition had successfully undergone this type of multi-organ transplant at that time. I knew it was either heaven or healing and the Lord would take care of me either way.
One year after my transplant, Karen and I received the great news that my body showed no evidence of cancer at all and chances are good for continued health.
My story isn't about defeating cancer, nor was it about praying for a miracle. Instead, my experience has taught me to depend on The Lord and nothing else. At one point, part of my body was dead inside, but God is good, and He can be trusted even when things look hopeless.
Please thoughtfully consider to register to be an organ donor…you can be the miracle of saving lives!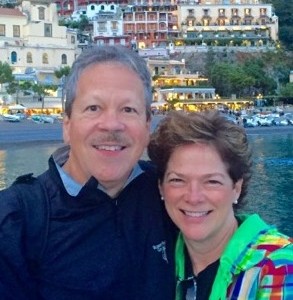 Share the story