As a firm believer that "everything happens for a reason," I should not be at all surprised by the events that led up to donating a kidney to my sister, Dorcella Sunday, over ten years ago. We were living in different states and I was not aware she was becoming very ill from PKD (Polycystic Kidney Disease). PKD is an inherited condition which can impair or destroy kidney function over time. It has affected 45 members of our family on my mother's side since my grandfather's generation.
Just as my husband was preparing to retire, we received news that our first grandchild was on the way in Texas. These events seemed to make clear that our home should be in Texas, not Virginia. After we moved, I learned just how ill my sister was when she was told that dialysis was imminent.
Not long after the move, my husband and I attended a PKD Chapter meeting in Austin where a transplant surgeon spoke about positive outcomes from related, living kidney donors. Big decisions do not come easily for me, yet after hearing this surgeon speak, I knew I had to be tested. I also instinctively knew I would be my sister's kidney donor.
In November, 2005 the extensive testing was complete and everything was a "go" for the transplant to be performed! I am happy to report that she is doing well, I am doing well and my husband and I now have four grandchildren!
I know my decision about this came so easily because God was working to be sure everything came together just as it should. Now our prayers are with my sister's son who just recently began dialysis and for a cousin on dialysis awaiting a transplant, both because of PKD. The need to inform others about organ donation is great for our family and so many others. I am happy to be participating in The Transplant Games of America for the second time and will use it as a way to spread awareness about this important topic!
Dene Kyrish – Living Kidney Donor, 2005
Canyon Lake, Texas
Team Texas, Transplant Games Participant, 2016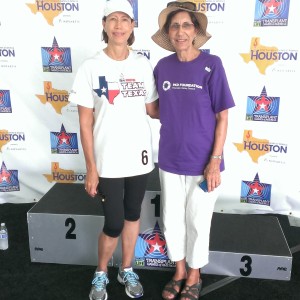 Share the story