Since my lifesaving double lung transplant on February 27, 2013, I've dedicated my life to educating people about the importance of organ donation. I've tried to live my life for my donor and donor family.
When I attended my first Transplant Games in Houston in 2014, I was very excited and at the same time very heartbroken. I was excited to be alive and breathing because of the gift that I was given.  During those Games, I won 2 silver medals in darts and a gold medal in ladies doubles bowling.
But, I was also heartbroken at that time.  Just six weeks before the Games, my niece died in tragic accident while my family was vacationing in Puerto Rico. She had the foresight to register as an organ donor while updating her drivers license.  Her gift of life has touched the lives of so many people.
The Monday before the Houston Games, I was also reminded of those whose gift doesn't arrive in time.  My neighbor passed away waiting for a kidney.
Since then I have shared my story of successes and tragedies with anyone who'll listen. I advocate for organ donation to help those that are still waiting, I want them to experience how great I feel.  When I go to Cleveland this year I want to add to my success story. I want to meet up with some of the most amazing people that I met at the Houston games. We have a bond that is hard to explain to others.
When all is said and done I want to leave a legacy of hope for those still waiting and all those whose lives are touched by donation.
Tina "Wonderlung" Rueles – Double Lung Transplant Recipient, 2013
Euless, Texas
Team Texas, Transplant Games Participant, 2016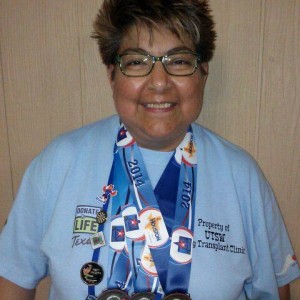 Share the story