My name is Amy Frackowiak and I received a kidney transplant. My story starts when I was only 15 years old. I was on a camping trip for the summer and upon arriving back home I noticed a small bite on the bottom of my foot. After a couple of days, two red lines trailed up both sides of my foot and I had a temperature of 103. My mom rushed me to the hospital and that is where I remained for the next week with an infection that required very strong antibiotics.
A few months later, tests revealed that I had IgA Nephropathy, a condition that can be caused by infection-fighting proteins settling in the kidneys. Over time, this can lead to kidney damage and failure and my doctor explained that I may need a transplant in the future. Over the next several years, my kidney disease worsened and at 25, I started peritoneal dialysis which would keep me going for the next 3.5 years.
On May 18, 2009 I received The Call I had been waiting on for so long.
The nurse from St. Luke's told me that they had a kidney but the function was not optimal and asked if I still wanted it. Of course, I said yes because my kidneys were not working at all. Around midnight, I finally went into surgery and received my new lease on a normal life.
I was now able to do things without restrictions and it is because of a selfless donor and her family. My donor is Ninghe, an 18 year old foreign exchange student from China. I was able to speak to my donor's best friend in 2011 after arriving back from the World Transplant Games in Sweden. In 2012, I was able to meet her at a donor ceremony in Denver, Colorado. When arriving in Colorado Vickie, Ninghe's friend gave me her family's email address.
It wasn't long before I received a response in Chinese which I used Google translate to decipher. Their message to me was heart breaking but really sweet. They told me about their daughter and her giving spirit and wanted me to be involved in their lives. They even invited me to their home to visit. I have not visited yet but I plan to meet the family who made the decision to give me life.
In 2010, I was able to attend my first Transplant Games in Madison, WI. There are no words to explain this incredible event. This event gives donor families and living donors the opportunity to see how their decision to give life made a difference. At the same time it gives recipients an opportunity to honor their donor and show the public how organ donation can provide a healthy and active lifestyle.
This event makes such an impact on the transplant community, so I decided to make it a regular event. I went on to compete in Sweden in 2011, Grand Rapids, MI in 2012 and Houston in 2014. I enjoyed the games so much that I accepted the role of team manager for the 2016 Transplant Games in Cleveland, Ohio.
Though I have won many medals, my main purpose is to raise awareness for organ donation and show the public the success of organ transplantation. I now work at St. Luke's as a communication representative in transplant. I want to inspire other transplant patients and provide them with hope that there is life after transplant. This job also gives me the opportunity to encourage others to donate their organs to provide life after they are gone. I can't imagine another way to dedicate my time. Raising awareness about organ donation is my mission in life.
Amy Frackowiak – Kidney Recipient – May 19, 2009
Houston, Texas
Team Texas, Transplant Games Participant & Team Co-Captain, 2016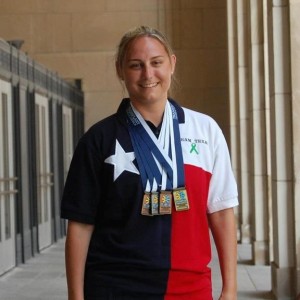 Share the story