Our lives forever changed in June of 2018.
June 9th Adrian turned 2 years old. On June 17th Adrian was in an accident and ended up in the hospital. The next day we were informed he was no longer breathing on his own. When we were asked if we would like to donate his organs there was no hesitation from my husband or I. Adrian loved to meet and interact with new people. How could we not donate his organs so he could still meet and interact with new people in a different way?
Donating his organs was one of the best and easiest choices we have ever made. We lost our baby boy, but I know we helped other people keep their loved ones for longer than we were able to keep our boy. Donating his organs gave me some small comfort during my initial grieving process and to this day I still feel touched by his donation. My husband and I both registered as donors in June of 2018. We proudly wave his flag outside our house showing his donation. Alexa, his sister, constantly tells our newest baby girl, Aria, of her brother and his organ donation.
"There is no footprint too small to leave an imprint on this world."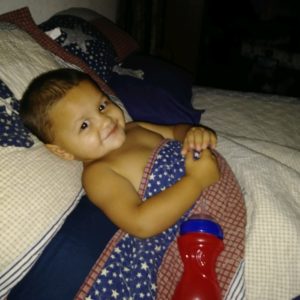 Share the story