My sister Amy is the middle sibling in our family. I'm the oldest daughter and we have a younger brother. Type 1 diabetes attacked Amy's body at age 21. Before diabetes, she was very healthy, even gave birth to twins! Type 1 diabetes can take its toll on kidneys after years on the insulin roller coaster. She was considered a fragile diabetic. The entire family became very familiar with nutrition, insulin, pumps, kidney functions, lab codes, and we also researched Donate Life knowing there might (hopefully not) be a need for a transplant later on.
18 years later her kidney function went down fast and furiously. In March of 2010, I began testing to see if I would be a match to donate a kidney to my sister. We matched 99.4% – that's what we were told! Amy was on dialysis for only 10 weeks and on June 2, 2010, a kidney transplant surgery was performed. It went amazingly! I was in and out of the hospital within 36 hours with of course a minimal amount of soreness but WOW the JOY of knowing the transplant went well was worth any discomfort! As normal procedure stated, Amy stayed in ICU for a few days and did great! We loved the surgeons, the transplant hospital in San Antonio and all of the staff! During the doctor's evening rounds, checking on Amy, he noticed how full her bag or urine was and said "Wow either you really needed to pee or your sister did" – LOL!
Even with the new kidney, Amy still had diabetes, which was the reason the kidney transplant was required. The only way to prevent damage from happening to the new kidney would be a new pancreas. She was put on the waiting list for a pancreas transplant after many meetings and tests. Many details went into this decision as this is a more delicate transplant and these type of matches do not occur very often. Blood types and other specifics must match very well. In Amy's situation, the doctor (her kidney transplant surgeon) kept in close contact with her and would have to approve and analyze the risk level for her body, how much time had passed since the kidney transplant and of course the donor would be deceased, which in knowing this, it's tough to think of taking something like organs from the deceased and family when they've just lost so much. However, this donor wanted his/her organs to be used for someone on a transplant list if something ever happened to him/her. The timing for such a transplant has about an 8-hour window, so my sister got the call to be in San Antonio within a certain time, more testing was done and the pancreas transplant was completed successfully. As emotional of a decision, this is for the family dealing with a death, the thought of helping another person live on is valuable in the healing process. The family feels that a part of him/her is still living on Earth with them, doing great things.
Since, Amy is doing so much better, she and I wanted to share our story!
We work health fairs, print out donor registry forms, place a computer at the health fair table for those willing to sign up right then! Get a t-shirt, bumper sticker, whatever – just come to sign up! Our local newspaper did a nice write up about the health fair so we took advantage of the free advertising. We try to educate anyone and everyone we can. Neither of us are doctors, nurses or specialists in any medical field but these professionals are always ready to answer questions.
We are a success story and many others out there have success stories! Let's share and inform!! Our transplant center in San Antonio contacted us to be in their informational video, which we did to help answer some questions about organ donation and let others see us as normal people with an extraordinary story!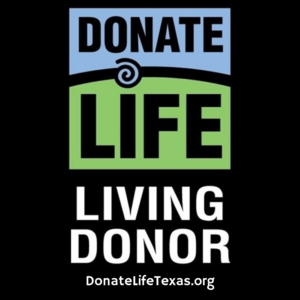 Share the story