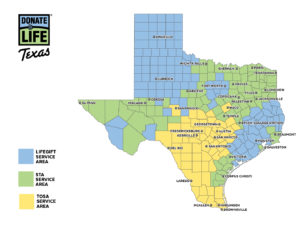 By federal law, non-profit organ procurement organizations (OPOs) are the only organizations that can perform the life-saving mission of recovering organs from deceased donors for transplantation.  Because Texas is so large, the state is served by three OPOs:  LifeGift, Southwest Transplant Alliance and Texas Organ Sharing Alliance.
The staff of these organizations are the caring and compassionate people who give hope to those facing devastating loss through the option of donation.  They work in hospitals to guide grieving families through the organ donation process and provide the clinical services needed to recover, prepare and transport organs to those awaiting a life-saving transplant.
OPOs are also active members of the donation community committed to educating the public about the need for donation and the importance of donor registration.  Because facilities in each county
are served exclusively by one OPO, these organizations often collaborate on
community outreach programs.
All three OPOs are founding members of the Donate Life Texas organ, eye and tissue donor registry.
1-800-633-6562
Corporate Headquarters:  2510 Westridge, Houston, TX 77054
Regional Offices:  Amarillo, Fort Worth and Lubbock
Service Area:  counties shown in blue

Founded in 1987, LifeGift is a nonprofit organization that offers hope to individuals needing organ, eye and tissue transplants in 109 Texas counties in the Houston area, North Texas and West Texas.

 

1-800-788-8058
Corporate Headquarters:  8190 Manderville Ln, Dallas, TX 75231
Regional Offices:  Bryan / College Station, Corpus Christi, El Paso, Midland / Odessa, Temple and Tyler
Service Area:  counties shown in green

For over 40 years, Southwest Transplant Alliance (STA) has been saving lives by recovering donated organs for those waiting on transplants. Founded in 1974, STA is among the largest of 58 federally designated, nonprofit organ procurement organizations in the U.S.

 

1-866-685-0277
Corporate Headquarters:  5051 Hamilton Wolf Road, San Antonio, TX 78229
Regional Offices:  Austin, McAllen
Service Area: counties shown in yellow

Texas Organ Sharing Alliance is one of 58 federally designated Organ Procurement Organizations (OPO) in the United States. Founded in 1975 as a not-for-profit corporation, TOSA covers 56 counties in Central and South Texas.  TOSA is committed to providing organ donation and recovery services to families wishing to donate, and to those waiting for a life-saving organ transplant.

 
OPOs are regulated under the Organ Procurement and Transplantation Network (OPTN) of the U.S. Department of Health and Human Services' Health Resources and Services Administration. OPOs are certified and accredited through the Centers for Medicare and Medicaid Services (CMS), the United Network for Organ Sharing (UNOS) and the Association for Organ Procurement Organizations (AOPO) which require regular inspections of operations and management.