As part of Team Honda Cares Week of Service 2018, Hill Country Honda and area Donate Life Texas partners are teaming up to invite you to Stop & Swipe to Donate Life!
Texas Organ Sharing Alliance, GenCure and South Texas Blood & Tissue is making it easy to sign up and save lives as part of the organ, eye and tissue, bone marrow and blood donor programs at one stop, the Hill Country Honda dealership located at 7338 West Loop 1604N in San Antonio, Texas on Saturday, June 16 from 9:30 a.m. to 1:30 p.m.
It's easy to Donate Life! Drive up to the front of the dealership to swipe your Texas driver license or ID to join Donate Life Texas, the state's official registry for organ, eye and tissue donors.
GenCure, in partnership with Be the Match will be on site to educate potential donors to the Be The Match marrow registry. Completing a quick five (5) minute form and check swab adds you to the registry and gives blood cancer patients hope as they search for their life saving donor. You could be someone's only genetic match. You could be their cure. South Texas Blood & Tissue will have a bloodmobile there to collect vital, lifesaving blood donations.
Cool refreshments, give-a-ways and even an opportunity to adopt a pet with the Helotes Humane Society will be available.
Thousands of people are in need of critical organ, eye, tissue, bone marrow and blood donations to survive. Your generosity can save as many as eight lives through organ donation and bring sight and healing to another 75 people or more through eye and tissue donation. Blood donors can help save up to three lives per donation. Only one in every 430 marrow registry members will match and go on to donate to a patient in need. To learn more about marrow donation or to request a swab kit online, please visit www.gencure.org/teamnattalie.
Volunteers seeking to donate blood at the event are highly encouraged to register for a scheduled appointment time at www.southtexasblood.org/teamnattalie or calling 210-731-5590. Volunteer donors who are unable to donate on the 16th are encouraged to donate at the West Over Hills South Texas Blood & Tissue Center donor room located at 10555 Culebra, Suite 107, San Antonio, TX 78251.
Can't make it to Stop and Swipe to Donate Life? You still can make a difference by simply completing the form below to sign up as an organ, eye and tissue donor and share the link www.DonateLifeTexas.org/StopnSwipe to encourage others to do the same.
Special thanks to Hill Country Honda #TeamHondaCares for hosting and encouraging Texans to Stop & Swipe to Donate Life!
Upcoming Events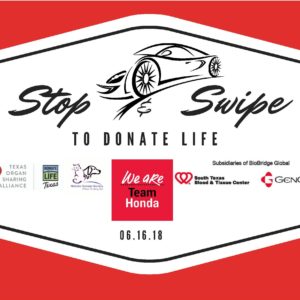 Spread the word
https://donatelifetexas.org/stopnswipe/